Dive into the Details
In its sixth generation, the Kaminario K2 all-flash array manages to realize Kaminario's vision of an all-flash datacenter, and make the K2 the right choice for IT departments of the on-demand world, supporting applications such as relational databases, virtual environments, private-cloud implementation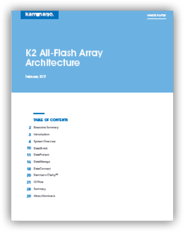 s, NoSQL databases, containerized applications and more.
The K2 runs Kaminario VisionOS™, the next-generation flash operating system stack, that provides the core software and advanced data services framework. VisionOS enables modular components and services that demonstrate a superior value proposition across a real scale-out storage platform, both in innovation and in ease of use:
DataShrink – Data reduction features and capabilities are mandatory for economics of flash storage. With differentiating inline, global, adaptive and selective deduplication, together with inline byte aligned compression, thin provisioning and zero detection, Kaminario is able to establish itself as the cost-efficiency leader of flash storage.
DataProtect – Kaminario values its customers' data more than anything. Native array based snapshots and replication allow for returning to any point in time in any site. Data-at-rest AES256 encryption makes sure that data is kept private and safe at all times. A highly resilient design of no single point of failure, non-disruptive upgrades (NDU) and a robust RAID scheme facilitate 99.999% of data availability.
DataManage – The K2 can be managed by various means. Internal management includes an intuitive web-based GUI, a scriptable CLI and a fully programmable RESTful API platform.
DataConnect – K2's RESTful API allows for external applications of the IT eco-system to easily integrate and seamlessly manage the K2. This eco-system is constantly growing and includes: VMware vSphere, Microsoft VSS, OpenStack, Flocker (containers) and Cisco UCS director.
This white paper describes the K2's architecture and VisionOS, detailing its core features and functionalities and how they come to play in the Kaminario K2 all-flash array.